Whenever you consult the Control Panel in Windows, you're probably wondering just how much you can accomplish from it.
The answer?
Just about everything. Your Control Panel is more or less the hub from which all the various tasks that you can do on your PC can be accessed. Learning where each entry on the Control Panel leads can help you greatly when you're searching for a solution to a problem. The entries in this article are from Windows Vista's Control Panel, but the Control Panels in Windows XP, 7 and 8 are similar.
Here we go.
System and Maintenance
System and Maintenance
presents you with a simple guide to your operating system, and also allows you to perform a backup of your computer. You can also perform other tasks, such as updating your drivers and managing your hard drive. Making routine backups is advised — once a month is a good rate — though sometimes you may want to create a backup immediately before you do something risky, like tweaking your hard drive.
Security Panel
The
Security panel
gives you the option of checking for Windows updates, checking the security of your computer, and configuring your firewall. Come here if you're noticing issues with your PC's operating system — the occasional Windows Update and driver check can do a lot of good.
Control Panel on Windows Vista.
Network and Internet
Network and Internet
allows you to configure local and wireless networks, as well as Windows filesharing. Come here if you want to change your router password or set up security/filesharing for your network.
Hardware and Sound
Hardware and Sound
leads the way toward tweaking your keyboard and mouse settings, as well as configuring your gamepads, speakers, headphones, headsets and other accessories. Device Manager, which allows you to manage your device drivers, is also found here.
Programs
Programs
gives you the ability to uninstall or change any of your installed programs, as well as manage what programs launch when your computer starts, and manage features such as Gadgets and Windows Defender.
User Accounts
User Accounts
allows you to manage the accounts on your computer and determine which accounts are given administrator access, which are allowed to install programs, which have child protection — things like that. You can also create new accounts or change existing ones using this interface, in case you have a password problem or want to change your profile picture.
Appearance and Personalization
Appearance and Personalization
lets you tweak your monitor settings, and also manage your taskbar, Start Screen, and other settings that help you navigate your operating system.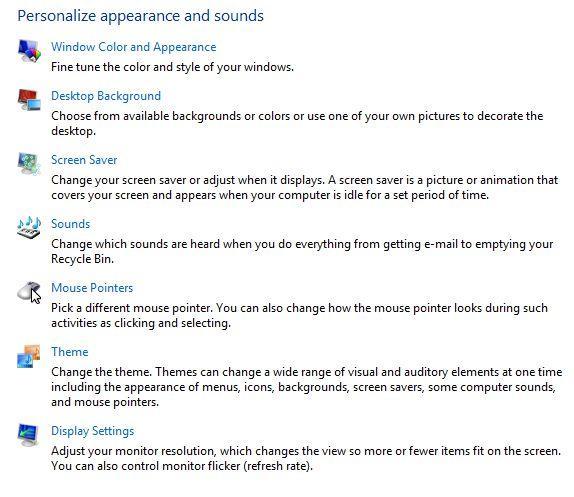 The Personalize screen in Windows Vista.
Clock, Language and Region
Clock, Language and Region
allows you to manage your computer's internal clock and language. Don't mess with language or region unless necessary — you wouldn't want to change your computer to a language you don't understand or receive updates from overseas, would you?
Ease of Access
And finally,
Ease of Access
allows you to adjust settings for on-screen keyboards, narrators, magnifiers, and other useful Windows navigational features.